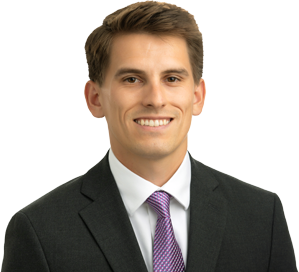 Spencer Peet, CFP®, CAIA®
Portfolio Consultant
Meet Spencer Peet, CFP®, CAIA®
Portfolio Consultant
"Do not go where the path may lead, go instead where there is no path and leave a trail." – Ralph Waldo Emerson
Spencer graduated from the University of Delaware with degrees in Finance and Financial Planning. He began his financial services career down in Jacksonville, Florida with an insurance holding company. Although Spencer was learning a lot in this industry, he was missing his family and friends and made the decision to move back to the northeast to begin the career he had studied for in Financial Planning. It was a move that turned out to be a home run when Spencer found out Key Financial was growing and accepting applications for a Planning Consultant. He was very excited to have the opportunity to work for a nationally recognized firm and is looking forward to learning as much as he can from this award-winning team.
Spencer lives in the heart of Philadelphia and loves the vibrant city life. He travels whenever possible, and during the summer he ventures to his hometown, Rehoboth Beach, Delaware to enjoy the beach and soak up the sun.
If you could possess one super-human power, what would it be?
Flying.
How did you decide what you wanted to do with your life?
I wanted a career where I would have an impact on individual lives. My mother constantly volunteers in the community and my father is a doctor, so I always desired a career where I am helping others.
What is your most cherished family tradition?
Every year we travel as a family to New York City to walk around the city and to catch a Broadway show. I love the opportunity to explore the city and spend time with my family.